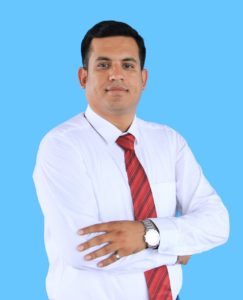 Anugraha Mandhir CBSE Senior Secondary School is a friendly, vibrant and community-minded school. At Anugraha, we are committed to open life-changing opportunities for children through quality education irrespective of caste, creed or socioeconomic background. The school is committed to inspire students to achieve the highest standards of intellectual and personal development through a stimulating and comprehensive activity based educational program.

I am very proud to be the Principal of this wonderful school. It is a privilege for me to work with our students, our staff and our families to make our school the very best it can be. My aim is to lead our school community to enable us to work together efficiently and effectively to achieve our goals. 

We aim to create a safe, nurturing yet challenging environment. We develop the whole student – emotionally, socially and academically. We care for and appreciate each of our students as the unique individuals that they are, each with distinct talents, interests and needs, and each with differing learning styles.

Our qualified, talented and dedicated teachers facilitate engaging learning programs using innovative techniques, rich resources, proven instructional strategies and engaging programs to promote student learning. 

We focus on self-discipline as we strongly believe that discipline is necessary for our students' happiness, well-being and success. It helps them to stay focused on goals, gives the ability to accomplish difficult tasks, and allows them to overcome obstacles and discomfort as they push themselves to new heights.

Our students develop responsibility for their own behavior and the choices they make, and also a communal responsibility to assist their peers to do the same. Our students become strong in self-esteem and develop a healthy and respectful tolerance for others. 

We want each one of our students to leave school with a strong foundation that is built on the values of respect, cooperation, persistence and striving for excellence.

Hope your day is filled with Anugraham (blessing)!
Principal, Mr. Sathish Kumar, has won 'The Active Principal Award' from All India Citizens Development Centre, Aurangabad